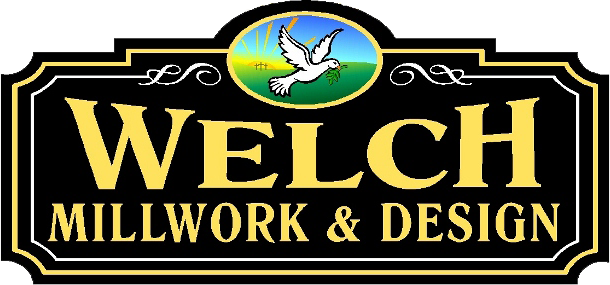 Local Historical Sites
I have been fortunate to work with several sites of Historic Madison, Indiana. In my work, I specialize in 18th and 19th century restoration and replication, and with each historical project I work meticulously and carefully to ensure that the work I do is historically accurate.
Costigan House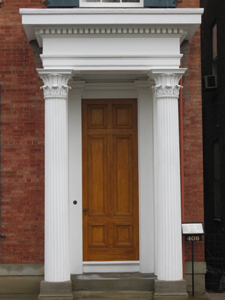 The Costigan House, home to the famous architect and builder John Costigan, is a historical site owned and maintained by Historic Madison, Inc. I was fortunate to replicate and restore the front door of this home, the only known front pocket door in the Midwest, and an archictectural favorite of Costigan himself. As I began my work on the door, I discovered that over the years the door, originally 10 feet with 6 panels and made of red pine, had been refinished to make it look like rosewood, and the top panels were cut to create a fixed transom sash; the middle panels were removed and replaced by stained glass, and the door was rehung to roll from the top when opened.
The original door, as it has now been restored to resemble, is a 10 foot, 6 panel door of solid red pine with a quarter-sawed, white oak wood grain faux finish. Rather than hanging and rolling from the top, typical of pocket doors today, the original door had rolled from the bottom on rails, with wheels that very much resembled the wheels of train cars, paying homage to the prominence of train travel at that time.
To see more images of my work at the Costigan House, click on the image above, right.
Broadway Tavern
At the historic Broadway Hotel and Tavern, whose hotel, tavern, and restaurant remain operational today, I replicated the original door to reflect the style of the 19th century, but added a 20th century weatherization to maintain the integrity of the door for years to come. This door is made of solid quarter-sawn white oak.